Services:
Brand & Marketing Audit
Marketing Analysis
Brand Development & Corporate Identity
Graphic & Visual Communications
Copywriting & Content Marketing
Video & Photography Production
Social Media Planning & Consulting
Digital Media Planning/Buying
Experiential Marketing
Industry:
Lifestyle/Fashion
Challenge:
Founded in 1833, AO® Eyewear is America's first metal eyewear-frame manufacturer. This iconic brand supplied US armed forces with eyewear from 1917-1946, making the brand most popular among veterans and military enthusiasts largely of an older demographic (aged 50+). Once considered the gold standard of optical technology excellence, the company had been focusing on maintaining the highest standards for American manufacturing, rather than on  advertising and brand management.
For nearly 15 years, competitors had the opportunity to gain market share over  AO Eyewear, some even claiming accolades which should have been hallmarks for this historic brand. This resulted in a dilution of the brand's perceived equity and a decrease in sales. Our mission was to reclaim AO's rightful brand share in the highly competitive lifestyle industry by increasing brand awareness of this legendary client to a previously untapped market  of potential AO enthusiasts.
Solution:
Our brand discovery process uncovered an opportunity for AO to reach a younger audience through a revitalization of the brand, including an updated logo and marketing strategy to convey the product positioning as a lifestyle brand.
We embarked on a brand refresh beginning with an evolution of the brand's logo. Because AO Eyewear's logo is iconic within the optical industry, we needed to be thoughtful with the design updates so as not to alienate the brand's existing core audience. To reflect the brand's rise and "rebirth," the red "O" was elevated.
Our next priority was to revitalize the brand's lagging social media presence. Prior to our involvement, AO's social media channels had been dormant in terms of content and value added. Our proposed strategy required that new content, such as product shots, be captured and shared to the targeted audience. Beyond product shots, we also needed to create a repository of lifestyle photography and video to showcase on social media. Thus, a series of photoshoots was organized and executed. Based on the persona research we conducted and the history of the brand, we decided to blend old and new by creating several vintage-inspired photoshoots. This included assembling vintage wardrobes, scouting iconic locations and sourcing hard-to-find props, which included the following:
1960s Volkswagen bus
1962 Ford Galaxie
1980 Mercedes SL coupe
Antique Piper plane
1963 split window Corvette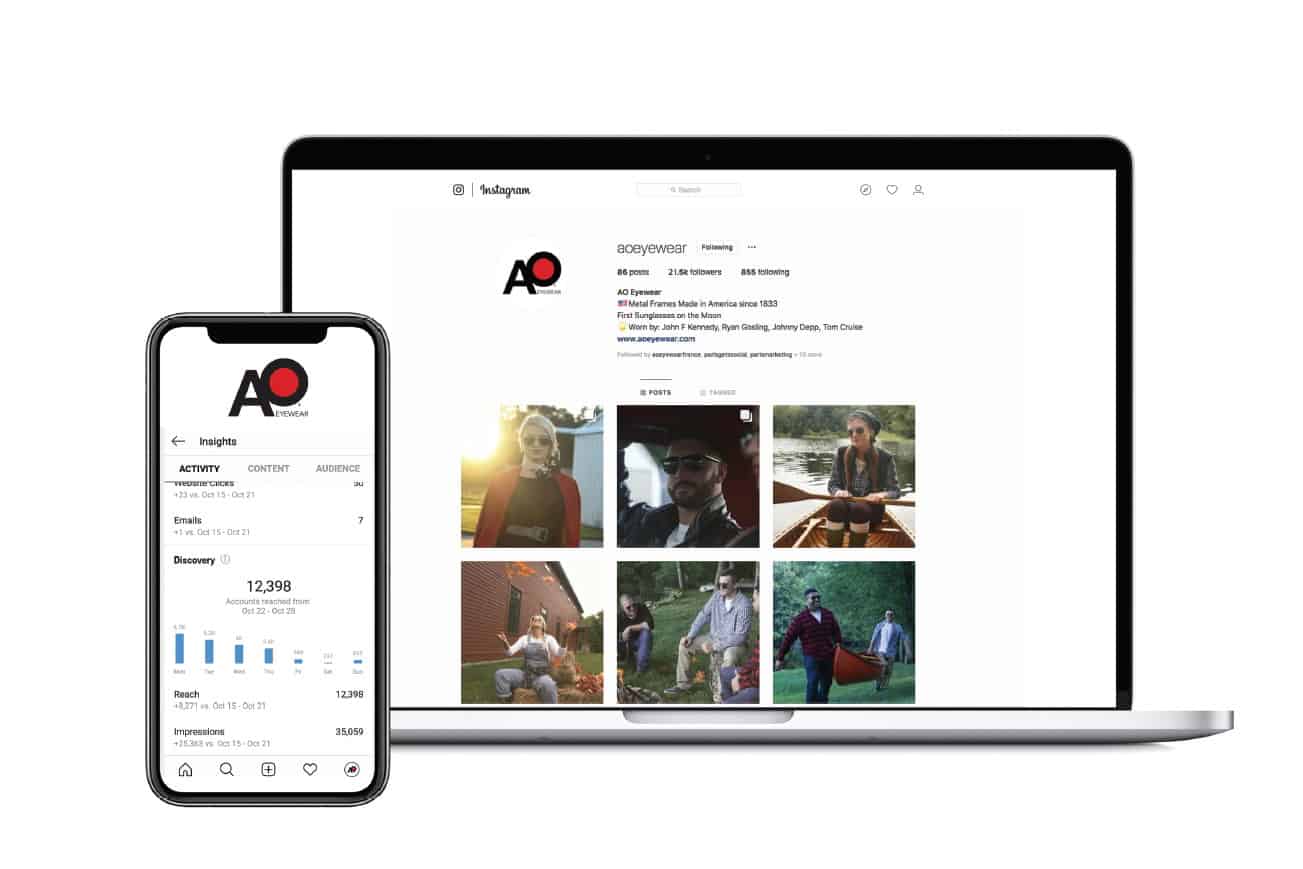 While we leveraged Facebook, Pinterest, Twitter and Reddit, Instagram was determined as the primary platform within our digital strategy to reach and build a younger consumer audience of lifestyle brand advocates and buyers. We developed a content calendar that incorporated personalized messaging for paid and organic content with the intent of disrupting brand perceptions within the online community. We also made sure to call attention to AO Eyewear's legacy and brand identity, using the hashtag #TrueOriginal across the campaign.
Our social media efforts resulted in capturing the attention of over 30 social influencers, who we then began working with to further drive awareness and recognition of the AO Eyewear brand to the target audience. We also recognized the potential to create a subset of followers and brand advocates within the untapped younger audience whose primary interests and behaviors aligned with aviation. To capture this core audience, we partnered with the leading aviation Instagram account (@aviation4u) to promote a giveaway on their social channels.
This social media campaign was conducted in conjunction with a series of promotional email campaigns targeting former customers and ecommerce buyers that abandoned their shopping carts during the buying process on AO Eyewear's website. This omnichannel marketing strategy enabled us to amplify the brand's presence without incurring waste to the campaign budget.
 Results:
Within four days of the October 2018 campaign launch, AO Eyewear's Instagram following increased a staggering 1,823%, climbing from an initial 1,300 followers to nearly 25,000, of which a majority were determined to be Gen Xers and Millennials. The increased Instagram following also coincided with a significant increase in traffic to the ecommerce website.
Of the social media influencers whose attention was caught by the revitalized AO Eyewear brand, the most notable included: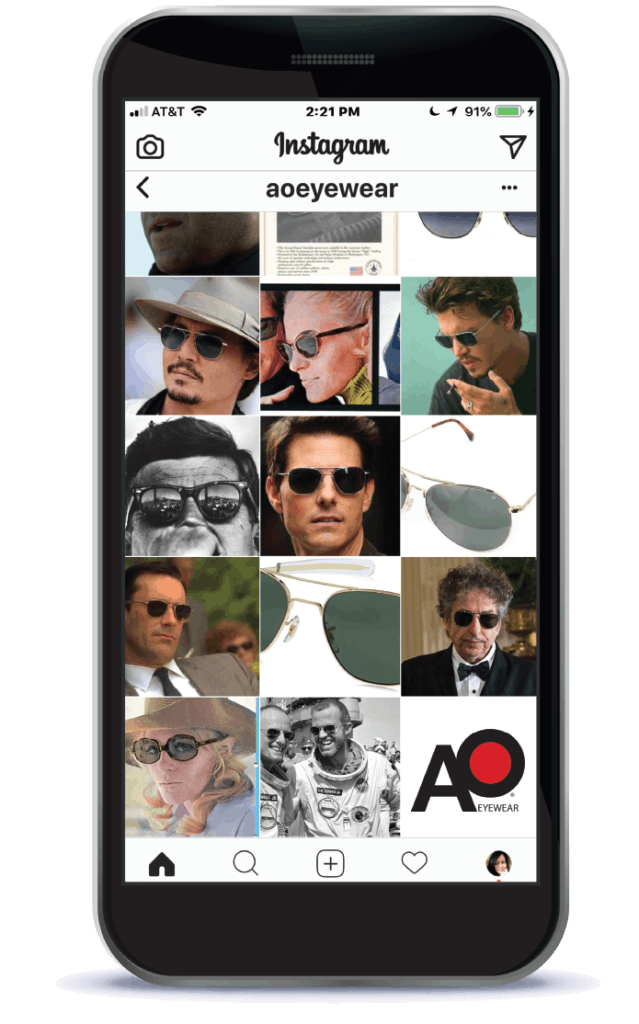 Brandon Jenner
Juan Pablo Di Pace
Aaron Carter
Mackenzie Sol
Evan Eckenrode (Dwarf Mamba)
Maddie and Mackenzie Ziegler
Matt Rife
The email campaign leveraging AO's curated email list resulted in a 32.4% open rate average with a 6.9% click-through rate to the website (compared to industry benchmarks of 8.7% and 1.1%, respectively).
The effectiveness of our efforts was clear to see: 46.9% of ecommerce transactions on the AO Eyewear website that occurred in the months following the digital campaign were made by new users, 68% of which were made by individuals between the ages of 18 and 44. In the US, the two leading fashion cities are New York City and Los Angeles. AO's top user geography in the months following the campaign were also New York City and Los Angeles, matching up with this trend and proving that the audience we attracted to Instagram effectively became consumers of the brand, as well as followers. The rebranding initiative and ensuing omnichannel digital strategy not only significantly increased brand awareness, audience size and engagement, but also resulted in a 275% increase in revenue, month-to-month and year-over-year, for November 2018. (It is important to note that in the month of November, zero advertising dollars were spent.)