Services:
Big Ideas & Creative Concepts
Competitor Analysis
Marketing Analysis
Graphic & Visual Communications
Copywriting & Content Marketing
Audio/Video Production
Print & Out-of-Home Advertising
Social Media Planning
Digital Media Planning/Buying
Promotional Marketing
Exhibits & Event Marketing
Experiential Marketing
Industry:
Manufacturing, Marketing
Challenge:
BlueHive Group was established as a holding company for BlueHive Exhibits, Continental Woodcraft, Trigon Creative and any future company created under the ownership of Founder and CEO, Paul Hanlon. While the three companies within BlueHive Group function as independent entities, their employees work collaboratively in a shared environment, enabling their clients with full-service marketing solutions including exhibit design and build, digital and traditional marketing and artisan quality millwork. Our challenge was to create awareness of this new holding company and its capabilities, and to generate qualified business leads for the organization.
Solution: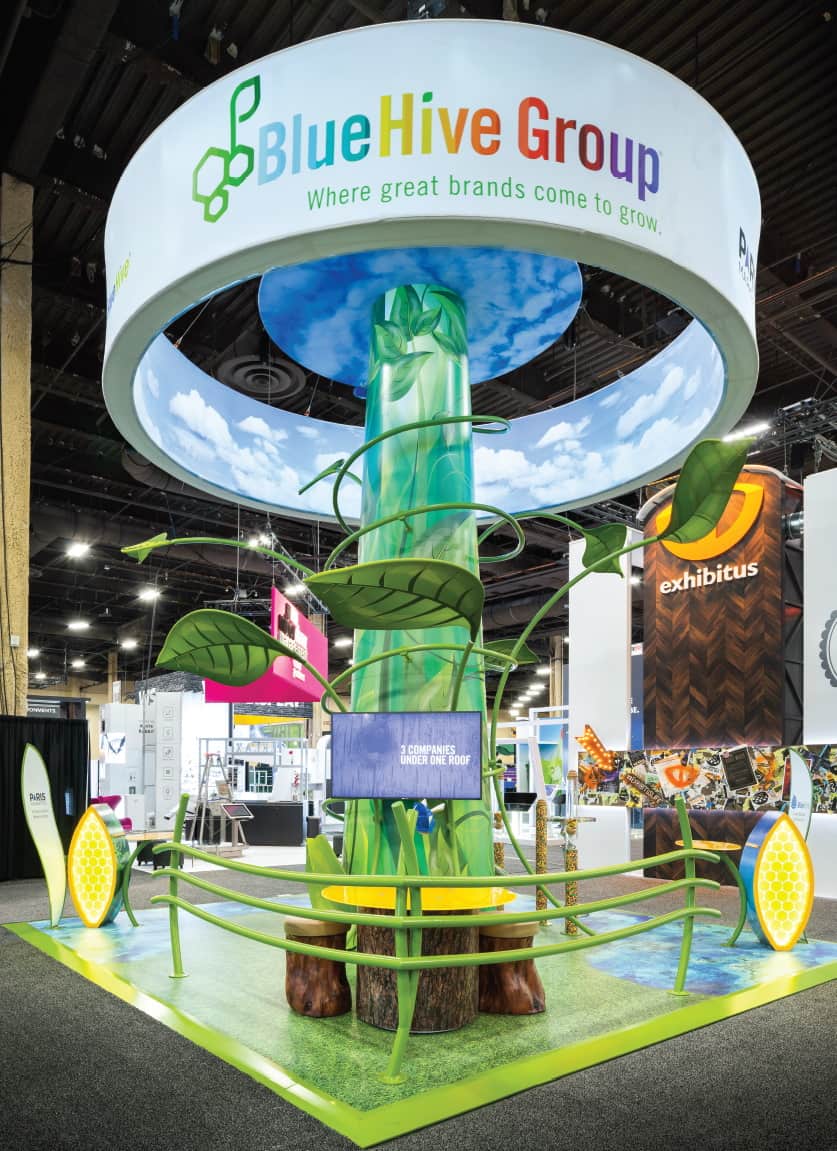 BlueHive Exhibits is well established and has built a strong rapport and reputation within the trade show world as an award-winning exhibit house. We therefore determined that ExhibitorLIVE, a Las Vegas-based trade show—marketed as The Professional Development Conference for Trade Show and Corporate Event Marketing—was the optimal opportunity to build brand awareness for BlueHive Group and the range of marketing services we offer. Additionally, many ExhibitorLIVE attendees would likely be familiar with BlueHive's name, and thanks to their well-established reputation in the exhibit world, the familiarity would likely interest trade show attendees to see what BlueHive Group could offer for their clients.
Knowing that the exhibit had to capture the attention of show attendees while still reflecting BlueHive Group's brand identity, members from all BlueHive Group entities collaborated to brainstorm exhibit ideas that would interest, engage and entice ExhibitorLIVE attendees. From this brainstorm came a big idea: BlueHive Exhibit's booth designers created a beanstalk-like structure to reflect the brand's growth-based messaging and to differentiate the exhibit among competitors at ExhibitorLIVE.
In order to capture qualified business leads, we developed a scavenger hunt which attendees could participate in. A list of scavenger hunt clues was developed; each clue, and the ensuing answer, corresponded with a different area of our exhibit which showcased one of the three subsidiaries and their respective services. Clue answers were also tactfully incorporated at the end of a video playing on a loop which showcased BlueHive Group's capabilities, so that scavenger hunt participants would have to watch the video in order to acquire the answer. Using iPads placed at the exhibit, we used an app to host the scavenger hunt and to collect information submitted by attendees (i.e. first and last name, company email, company they worked for and their phone number). To incentivize participation, we offered a daily chance to win a $100.00 cash prize.
Prior to the event, social media content promoting BlueHive Group's attendance at the event was posted to the organization's social media channels. During the event, social media updates showcasing BlueHive Group's unique exhibit, staff and visitors were also posted, utilizing appropriate hashtags and maintaining a responsive and timely posting schedule throughout the event.
Results: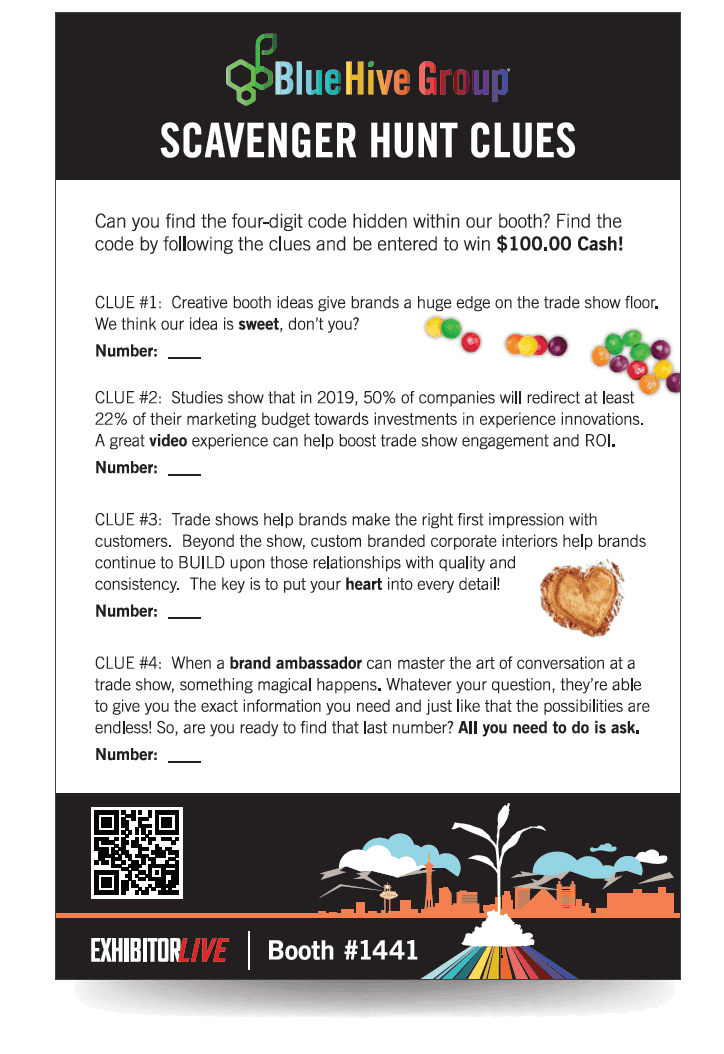 BlueHive Group's unique trade show exhibit generated significant interest among attendees at the show, and on-site staff reported receiving compliments from countless visitors. The interactive experience and one-of-a-kind exhibit resulted in increased traffic to and conversation with the on-site BlueHive Group staff. In total, 38 leads were generated from the in-booth scavenger hunt activity, and Trigon Creative and BlueHive Exhibits jointly signed on a new client which was looking for a partner to collaborate and develop exhibit designs and experiential marketing initiatives for future trade shows.