Services:
Brand Development & Corporate Identity
Graphic & Visual Communications
Copywriting & Content Marketing
Print & Out-of-Home Advertising
Social Media Planning
Website Design & Development
Search Engine Optimization
Digital Media Planning/Buying
Large-Scale Printing
Promotional Marketing
Exhibits & Event Marketing
Industry:
Professional Services (Insurance)
 Challenge:
After 20 years in operation, DeCotis Specialty Insurance—a New England surplus and excess insurance wholesaler—determined the need for a rebranding to better reflect the evolution their organization had undergone in the years since the business was founded. The company's executive leadership wanted to revitalize their brand with a more modern look for recruitment purposes and to stand out and compete against larger national brands in the surplus insurance market.
Solution:
Brand Development
We started by executing a complete brand identity overhaul to better communicate DeCotis' wide range of service offerings. Since they specialize in high-risk coverage, we chose a multi-color prism effect for the brandmark—a risky choice that captured the brand's willingness to take risks on behalf of their clients. Moreover, the prism design is a visually distinctive look that is playful and bold, a stark contrast to the conventional insurance world, and reflects the complexity of the various markets that DeCotis services.
Website Development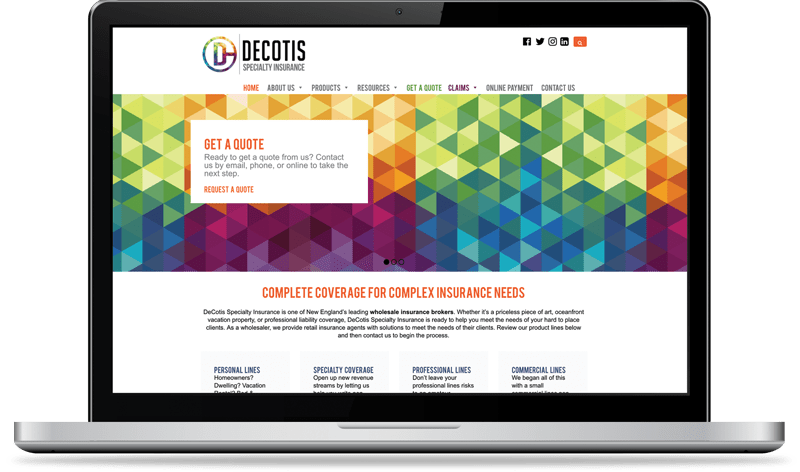 With the new logo developed, we designed a brand-new website featuring the updated brand look and messaging, and with a cleaner and easy-to-use UX/UI and improved performance across devices. To build the new website, persona workshops were conducted to identify the most important users and their needs from the site. Website development workshops were also held with key staff members to capture the website features and navigation paths that were important to them.
Marketing Strategy & Deliverables
A yearlong marketing plan to drive awareness and recognition around Decotis' updated brand look was then developed, and we delivered a soft rollout to the staff, framed as a series of business development workshops.
We collaborated with Decotis to design and print updated business cards and stationary, as well as custom-sized rack cards detailing the company's service lines for use at trade shows and other sales-oriented meetings. We also designed full-page print ads and digital display ads to further drive awareness and recognition for the updated brand look.
In addition, we implemented the updated brand look and messaging across corporate social media channels and created and managed post content for the rebrand launch. We also developed an email marketing campaign to highlight insurance products by season and to target potential clients in new geographic areas. In addition to designing and sending the emails to targeted lists, we also monitored the open rates and click-through rates of the emails sent, using the data to refine future email campaigns.

Exhibit & Promotional Marketing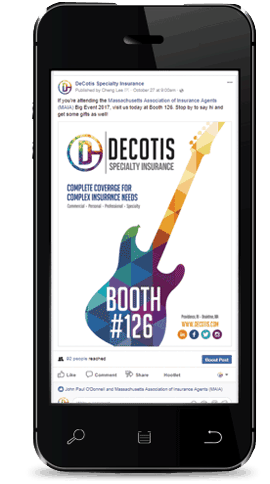 The Big Event is the country's largest annual trade show for the insurance industry, and DeCotis regularly attends. The Big Event 2017 was therefore the perfect opportunity to unveil DeCotis' revitalized brand to their core audience. Through our affiliate, BlueHive Exhibits, we designed and produced a branded, portable backdrop to set the stage of Decotis' exhibit and sourced the right rack card holders to best showcase the informational literature we produced.
To increase awareness of Decotis' attendance at The Big Event, we developed highly targeted pre-event paid and organic social media campaigns and supported these with a series of branded email campaigns which invited existing and potential clients to visit them at the event. We also produced large-scale printed materials to advertise Decotis' exhibit and activities on the show floor, and sourced and created various promotional items for DeCotis to give away to exhibit visitors. One such item was a candy tin with a clear cover, which we used to feature the Decotis rebranding by printing a translucent version of the prism logo on the cover. When the tins were filled with multi-colored candy, a look similar to the brand's prism effect was achieved. (After the show, Decotis continued to source and produce other promotional items through our services to be used as client giveaways, contest prizes and staff gifts.)
We monitored pre- and post-event activities overall, and developed a post-event email campaign, to generate leads and gauge the level of interaction with event attendees. We used these findings to make recommendations for future exhibit design and activity needs as well as for budget.
Results:
The rebranding rollout was an overall success and generated increased brand and product awareness for Decotis Specialty Insurance. While the new website resulted in improved visibility, SEO results and search ranking, the digital campaign resulted in increased organic and paid social reach and audience engagement (33% increase for organic, 300% increase for paid) as well as improved email open rates (average of 11.5%, with a high of 23%). In addition, Decotis experienced a rise in the purchase and use of those seasonal insurance products highlighted in the email campaigns.
At The Big Event 2017, Decotis reported high levels of brand awareness and engagement among decision makers within the target companies who visited the exhibit, and an increase in lead generation for the sales team. Moreover, Decotis saw an increase in motivation, participation and internal excitement overall from its personnel with the rebranding initiative.
The company's brand presence continues to remain strong, and Decotis has since expanded its geographic presence to the Mid-Atlantic region.